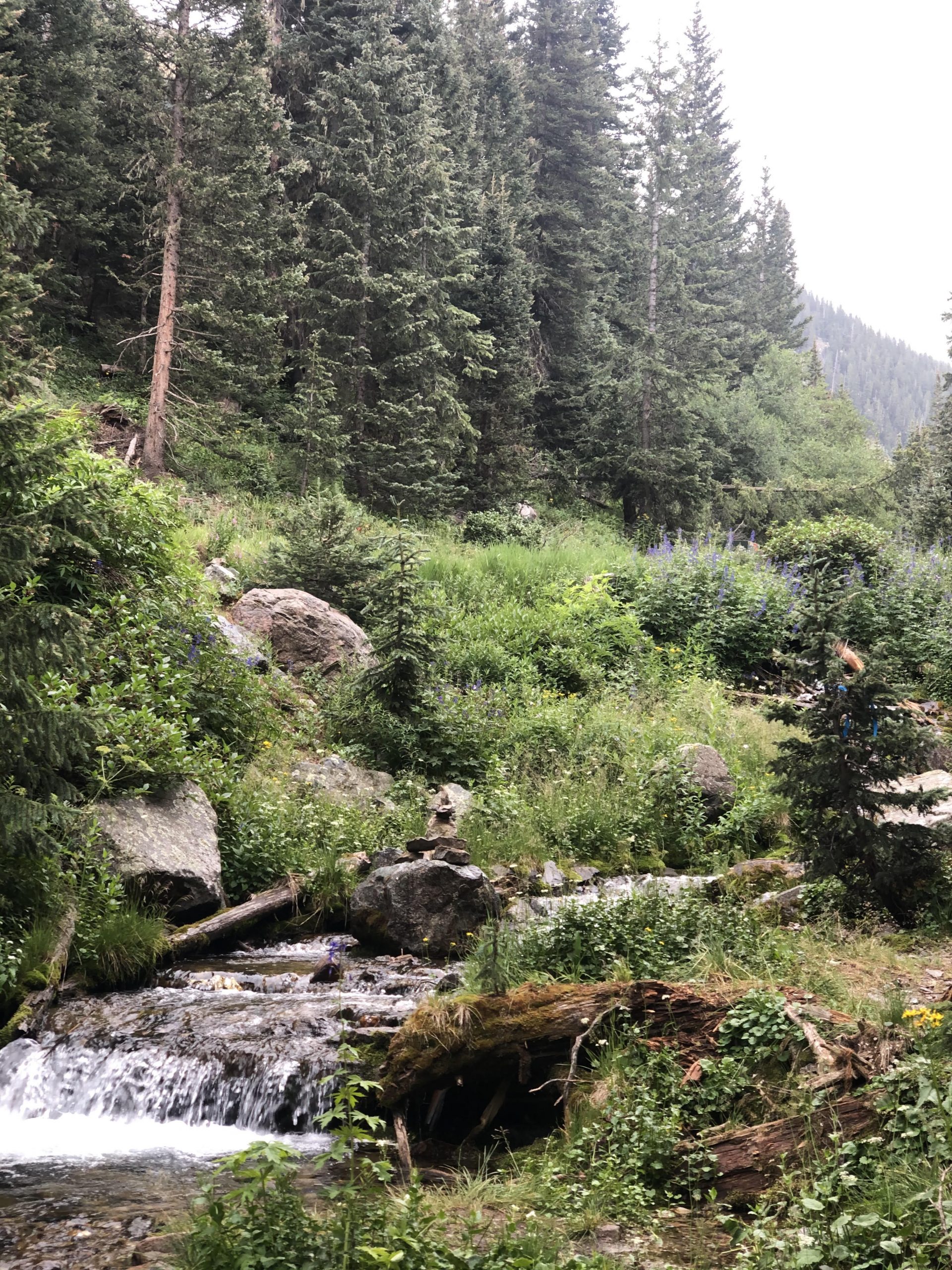 Here is your weekly dose of "Catching Up with the Castillos," a list of what we've been up to or will be doing soon.  
What We've Been Enjoying
We decided to take a bit of a road trip this week as we celebrated Kalena's 11th birthday.  A very generous friend had given us some money to celebrate with.  We had been planning to do a tea party at a local tea house here in Albuquerque but restaurants are now limited to outside seating only.  Kalena was such a good sport and took the news in stride.   She opted to go hiking instead.  We rented a cottage on a Goji Berry Farm in Taos, as there are many spectacular hikes in that area.  We spent a day exploring an area called Red River, where we saw deer, a bunny and a chipmunk.  The following day, we began the hike to William's Lake but decided to turn around when it started to drizzle.  It was a gorgeous hike and we hope to finish it one day.
Our trip was only supposed to be a one night adventure, but when a friend of ours heard about Bubbie's eyes and his trip to the ER, she gave us some money to extend our trip.  Instead of spending another night in Taos, we headed to Santa Fe.  As it turns out, some of our good friends just happened to be in Santa Fe that night, too.  We ended up going out to eat together.  It was very refreshing to hear how the Lord is working in their lives.  We listened in awe of our good, good God.  We know that it was such a God thing to run into them as they also weren't scheduled to be in Santa Fe that night.  Spending time with them was such a blessing.
What We've Been Doing
Locally, Kelike helped with worship at New Life City.  She had a blast.  
Last night, the Transform Our World Hawaii online celebration started.  We tuned in and were so blessed by it.  It is truly unlike any other conference we've ever been to.  So far, it has been really wonderful, and we believe it is going to bring so much help, hope and healing to so many.  If you get a chance, we highly recommend tuning in to "Aloha on Purpose: Still Get Chance," from July 22nd through 25th.
Online, RK is still doing his Purpose Discovery Challenge.  It's been neat to see the people from around the world that are taking part in the challenge.  Join the challenge at PurposeDiscoveryChallenge.com.
What We're Celebrating
Our daughter Kalena is now 11 years old.  She is a joy and delight to us. 
What We Need Prayer For
Open borders.  

Paraguay's borders are still shut.  We're praying for the borders to open up.

A safe and affordable place to live.

  

We have a place here in Albuquerque until the end of this month, so we will need to find another place to live by the end of July.

Blessings on our businesses.

  Please pray for favor and profitability in our online marketing businesses: 

Purpose Concepts

 & 

Beautycounter

.

Bubbie's eyes.  Please pray for the complete healing of his eyes.  He had chemical burns on both his corneas.
What's Coming Up
We've begun the process of taking applications for our Discipleship Training School in Asuncion, Paraguay in January.